Scope of the event
EXSA's main objective to promote innovation and cooperation of X-ray spectroscopists and analysts within Europe will be pursued by this international event, which takes place online June 21st-24th this year.
There will be four half day sessions including a meeting of the FP initiative. The sessions will start shortly after noon in central Europe allowing our colleagues around the world to join at a more or less convenient time in their respective time zones.
Giving a forum at the virtual conference to interact within the community will allow for discussion between, academic and industrial scientists.
XRS in environmental applications
XRS for novel materials including batteries, nanostructures, etc.
Instrumental development for XRS and its applications
Fundamental parameters
The Conference targets scientists from academia and industry as well as PhD students and PostDocs with understanding of X-Ray Spectrometry facing challenges in application of X-ray spectrometry. Beside the presentation of experts the event will give a platform for discussions between the participants.
You will find the Flyer of #EXSA2021 here.
---
---
EXSA Virtual Conference 2021 on X-ray Spectrometry
This event gives a forum to interact with the community and will allow for discussion between academic and industrial scientists.
Sessions including the following topics will be organized:
XRS in environmental applications
XRS for novel materials including batteries, nanostructures, etc.
Instrumental development for XRS and its applications
Fundamental parameters
Contributions for oral and poster presentations are very welcome. The Abstract submission is open on the EasyChair platform.
Abstract submission deadline is April 30, 2021.
submit an abstract
Diane Eichert - chair
Michael Kolbe - chair
Burkhard Beckhoff
Jens Kessler
Marie-Christine Lépy
Ioanna Mantouvalou
János Osán
Giancarlo Pepponi tbc
Charalampos Zarkadas
The registration fee for the event is 40 € (free for EXSA members).
In-situ metrology (for bio and energy materials)
High-resolution (local) μ-XRF
High-resolution (angular) GI/E-XRF
Quantification with Monte Carlo methods
Quantification with fundamental parameter approach
Fundamental parameters
You will find the Call for Abstracts here.
The registration fee for the virtual conference is 40 € (free for EXSA members).
Scientific contributions accepted for poster presentation should be prepared as a single sided pdf. You can provide as well a two minutes pitch video presenting your poster.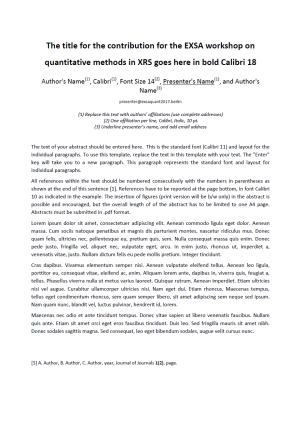 Instructions for abstracts
Go to www.easychair.org/conferences/?conf=exsa2021 for the abstract submission.
If you do not have already an account, choose "sign up for an account" and follow the procedure to obtain an account, using the email you will have received as confirmation of the creation of the account. Define a user ID and a password to access to the system of submission of abstracts.
Once you are logged in to the site, to submit an abstract choose "New Submission".
Complete the information related to every author of the paper, specifying at least one Corresponding Author.
Enter the Title and the Abstract in plain text in the reported form. This is only to help the system and the database, but the ABSTRACT MUST BE SUBMITTED AS PDF format according to this EXSA_conf2021_abstract_template. Please notice that abstract length is limited to one A4 page.
Enter at least 3 keywords, one per line.
Select topics relevant to the abstract submission (one or more from the reported list).
Submit your abstract by clicking the "Submit" button.

Once you have submitted one or more papers, you can access to your submission(s) through either the "overview" or "my submissions" menu. You can edit or add corrections or upload a new version of your abstract(s) until the abstract deadline.
Call for Proceedings to be published in X-Ray Spectrometry
Peer reviewed contributions will be published in a special issue of X-Ray Spectrometry (Wiley Analytical Science).
Registered authors of accepted contributions are invited to submit one manuscript for publication. Please note that no more than one manuscript per participant will be considered.
Manuscripts should be prepared in the strict format of X-Ray Spectrometry. No maximum number of pages has been specified.
Manuscripts should be submitted between June 10th and October 1st, 2021. Further instructions will be available soon.
---
Event schedule
The event takes place in the week starting June 21, 2021. The scientific talks and discussions will be Monday afternoon to Wednesday afternoon. On Thursday afternoon there will be the
Meeting of the Fundamental Parameter Initiative
This last session of the virtual conference will be organized together with the FP Initiative and continues with scientific FP presentations and discussions on joint collaborative initiatives on FP validations.
FP Initiative
Registration
Please enable javascript, otherwise your registration will fail.
thanks its major sponsoring members allowing us to organize this event.
Event supported by